Products
» Tabloids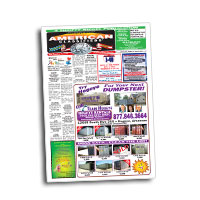 Nowata Printing prints tabloids, not for the purpose the term usually brings to mind. Perfect for shoppers and smaller newspapers, the tabloid format is great for rack distributed products as it fits well both physically and visually in this type of display. The bright colors and photos sizes used on a tabloid print gets the customer's attention and makes it easy for them to bookmark important product, pricing, and sale information. When you don't need to print long sections of text such as those in news stories, the tabloid can balance short blocks of text with several images and headers.
Tabloids from Nowata Printing also work well for mailings, as they fold easily into a mailbox and stand out from other ads and mail customers receive. Tabloids are fitting for time sensitive mailings and important promotions. If you fold a broadsheet in half, you've got this size format.
Height: 10" to 17"
Width: Up to 11.3875"
Page Count: 4 to 10 per section in four page increments.