Products
» Single Sheets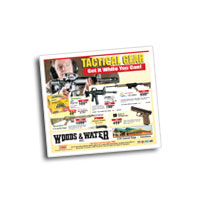 Single sheets are a fitting printing option for menus, programs, street promotions, sales proposals, temporary indoor signage, window posters, and other purposes. If you wish to distribute your message by hand but are looking for more real estate than a typical flyer, single sheets are the way to go. These can be full color, full bleed single sided or double sided prints as well as created with rounded corners if requested.
Nowata Printing uses in-line knife trimmers and can provide finished single sheets straight off of our web presses. This is useful in larger runs where a sheet-fed product would be cost prohibitive. It's also a way to print coupons on the back of a detailed ad for a targeted service or product. Choose from glossy or matte finish.
Height: Up to 17"
Width: Up to17"
Page Count: N/A, we can customize the number of copies you will need for distribution.