Post-Press
» Stitching & Trimming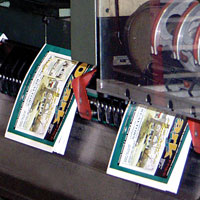 Our Mueller Martini 6-into-1 stitcher-trimmer can produce up to 9,000 finished books per hour. This workhorse features a 3-knife trimmer, providing a clean finish to tabloids and signatures alike.
Nowata Printing offers stitching and trimming binding for heavy duty books and other printed formats. Also known as Coptic binding or sewing, stitching refers to a method that involves folded inner pages inserted into a folded cover. Staples are then applied through the fold. Our printing techs meticulously complete this sturdy binding method to create a flexible hold where pages can lie completely flat.
Trimming is the processing of removing unwanted edges of a printed sheet to achieve the finished size. We are able to accurately trim your paper for your printing project without disrupting the integrity of the image and text on the page. Labeled with very precise crop marks, trimming is done with very quick machinery and creates a smooth edge for the final printed publication.