Post-Press
» Mailing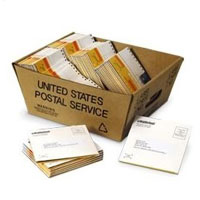 To meet the growing need for targeted marketing, we have joined forces with two large mail houses to offer our customers the latest in mailroom services. We have the ability to provide ink jetting, route sorting, and data management capabilities to better serve you, all with "one order, one bill" convenience.
We have recently expanded our mailing capabilities by adding a VideoJet ink-jetting line to our list of equipment. This will give us the ability to efficiently process mailing needs by accommodating up to 20,000 pieces per hour.
On top of high-speed ink-jetting, we can also handle all your mailing list needs. These services include merge/purge, file maintenance, mail qualification reports, CASS, Zip + 4 bar coding, and Postage Summary Report printing. Your files should be ASCII comma or tab delimited, or fixed field format accompanied by a record layout. Your list will also be sorted for maximum postage savings. Our inkjet services meet postal standards to insure prompt delivery. Cheshire labeling and pressure sensitive labeling available on request.