Pressroom
» Heatset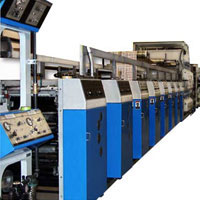 Nowata Printing does heatset printing for many forms of printed material. In the heatset printing process, the ink is dried by running the paper through an oven immediately after the ink is applied by the printer. As the paper goes through the oven, the oil-based solvents in the ink reach an evaporation point, leaving waxes, resins, and pigment. Then the paper goes through chilling rollers to cool down and set the remaining substances of the ink. This printing process creates an upscale, polished product.
Our heatset presses are the workhorses for our retail customer base. These presses print on stock ranging from newsprint to premium weight coated products. The heat set glossy finish is perfect for inserts, giving you vibrant colors and finishes.
Coated or glossy paper is used in heatset printing as it does not absorb ink. Supplemental inserts and direct mail campaigns with glossy paper make this a popular method of printing. We can help you decide if coldest or heatset printing will be the best process in which to create your printing project.