Pre-Press
» Photography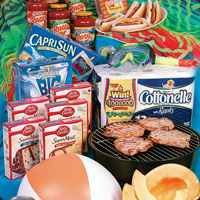 Nowata Printing also offers several pre-press services, meaning we do the digital work to prepare your files for printing.
Many of our customers have the need for photography services to feature certain products in sale flyers. Our locations have full studio lighting and a multitude of backdrops to enable us to capture that perfect shot for your print project.
Our photography services will take your products and portraits from concept to completion. Our studio lighting is capable of capturing any atmosphere from direct sunlight (tungsten) to backlighting, silhouettes, and everything in between. The backdrops we have such as black and white can make the product or other subject stand alone, or colorful patterns can enhance the image and be a part of the final photo.
Nowata Printing is skilled and experienced with creating arrangements that best represent your products, creating scenes that get the customer's attention, and combining lighting with composition and file size to get the exact images you need. We work quickly and thoroughly to get every shot you need for your print project. We will color balance, format, and prepare your photography for print and then approve the images with you to ensure they are what you envisioned before we print them.