Post-Press
» Inline Gluing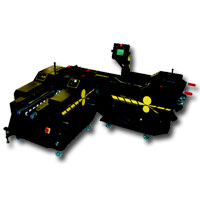 In-line gluing is a great option for those wanting a cost effective, bound product. Our in-line gluing mechanism works in unison with our 3 knife trimming system, delivering bound and trimmed signatures straight off the press, eliminating the need for a separate bindery run.
Nowata Printing does this binding method for smaller quantities of pages and paper sizes. This entails gluing of three different types; fugitive, re-moist, and permanent glue. Fugitive glue holds two panels together until they are separated by the end user. Re-moist glue appears on envelopes and is affixed by the end user when moistened. Permanent glue will keep two panels together indefinitely. Inline gluing is used on CD pocket holders, folders, table advertising, and transfer tape sheets, which are adhesive stickers you can apply in response to mailers or as address labels.
To uncover the full line of uses available for inline gluing, talk to the Nowata Printing team and we will help you decide if this is the right binding method for your goals.